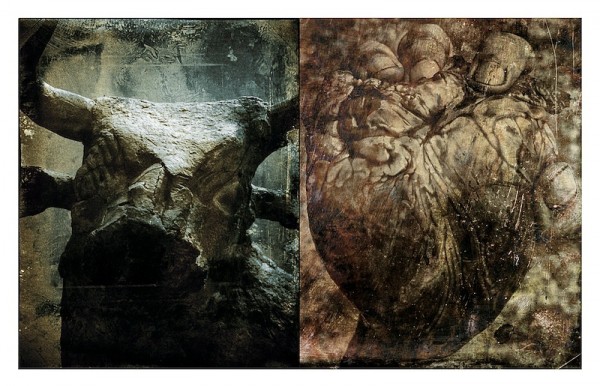 As I observe in the sidebar on the right, the images I show here may not always "survive" the final cut in their original state; some may not survive at all. A case in point is an image I posted earlier alongside the "Bull of Heaven" sequence from the Epic of Gilgamesh. While not exactly unhappy with the piece in general, it seemed to me that the bull image which made up the left half of the diptych appeared altogether too "benign" to represent a rampaging Bull of Heaven. A recent visit to the British Museum has provided a better solution. It is as simple as that…
However, maybe not that simple after all and as I am, unusually for this blog, speaking "in my own voice" as it were, I shall take the opportunity to clarify some of the back story involved with this particular sequence in the story. Many interpreters have seen this part of the narrative as almost a comic interlude coming as it does between the journey Gilgamesh and Enkidu undertake to the Cedar Forest in order to vanquish the "keeper" of the forest charged by the gods with protecting it from despoilation by mankind, Humbaba/Huwawa. This our heroes, after much soul searching and "girding of the loins", achieve. Gilgamesh, having the creature at his mercy, hesitates to apply the "coup de grace", but at Enkidu's firm and persuasive urging, ignores Humbaba's pathetic pleas for mercy and slaughters him. Thus angering the gods and thus, too, setting in motion the chain of events which will subsequently lead to the death of Enkidu; an event which plunges Gilgamesh into inconsolable grief and sends him on a "quest", which is the real "meat" and purpose of the epic, for the "meaning of life" (and death). In Gilgamesh's case this basically represents a search for the secret of immortality, though subsequently he is to learn that the true meaning of life lies elsewhere.
Coming as it does between these events, the Bull sequence is something of a "side story". In the narrative, Gilgamesh spurns the amorous advances of the goddess Ishtar/Inanna, ostensibly, or so he claims, because of her callously faithless track record with previous (some even cross-species) lovers. Enraged (hell hath no fury…), Ishtar unleashes the Bull of Heaven to rampage on the earth destroying anything that gets in its way, including, or so Ishtar hopes, Gilgamesh. Predictably, and once again with Enkidu's help, Gilgamesh triumphs; our heroes slaughter the bull and rip out its heart. They also, as most earlier translators have put it, slice off a "haunch", or "thigh", and fling it in Ishtar's face. While in itself this is not exactly a mistranslation, it does ignore the fact that, in many ancient Near Eastern texts, "thigh" is commonly a euphemism for "genitals", which would seem much more à propos here. This is important as it points up the subplot of the whole sequence: if the search for immortality and meaning in life is the great theme of Gilgamesh, then the secondary theme is undeniably that of same sex love. And love of a wholly sexual nature too. In spite of his understandable reluctance to become just another one of the goddess's "conquests" (which in itself represents an interesting "role reversal" of the genders) the real reason Gilgamesh spurns Ishtar's sexual advances is that he would reject all such female advances. He quite clearly and emphatically only "has eyes" for Enkidu…
The point is, too, that on one level my own images related to the epic (part of a larger exploration of myths in general) could justifiably be seen as "illustrating" various parts of the narrative. Well, there is that aspect, of course. And claiming that there are also other "layers of meaning" associated with them is, as I have pondered at length, problematic. This goes to the heart of issues of just how much actual "meaning" any purely visual medium can successfully and clearly convey without first being placed in some sort of context. And this often, if not always, means some sort of written or verbal context.
On a final note, and just to clarify my own personal intent with these pieces, my interests do not so much lay in the "(re)telling" of myths as in questions of why myths arise. If myth-making is a means by which human's throughout history have sought to explain the (to them) inexplicable then, and this is of greatest interest to me, why this myth or that myth in this or that place and time. In other words, my fascination is with the particular "mindset" that produces myths or "interpretations" and not first and foremost with "storytelling"…
For purposes of comparison I have posted the original image below, along with the quote from the epic that I used in the original post: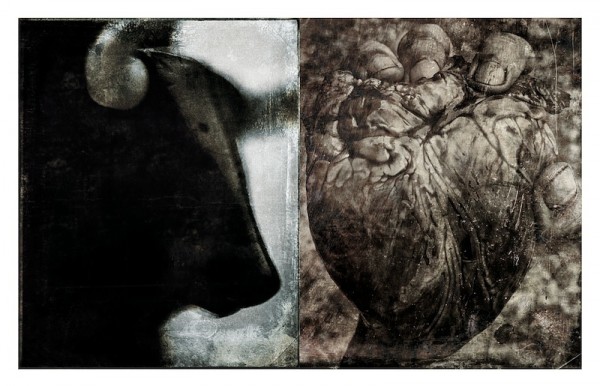 Ishtar led the Bull down to earth,
it entered and bellowed, the whole land shook,
the streams and marshes dried up, the Euphrates'
water level dropped by ten feet.
When the Bull snorted, the earth cracked open
and a hundred warriors fell in and died.
It snorted again, the earth cracked open
and two hundred warriors fell in and died.
When it snorted a third time, the earth cracked open
and Enkidu fell in, up to his waist,
he jumped out and grabbed the Bull's horns, it spat
its slobber into his face, it lifted
its tail and spewed dung all over him.
Gilgamesh rushed in and shouted, "Dear friend,
keep fighting, together we are sure to win."
Enkidu circled behind the Bull,
seized it by the tail and set his foot
on its haunch, then Gilgamesh skilfully,
like a butcher, strode up and thrust his knife
between its shoulders and the base of its horns.

After they had killed the Bull of Heaven,
they ripped out its heart and they offered it
to Shamash. Then they both bowed before him
and sat down like brothers, side by side.

The Epic of Gilgamesh