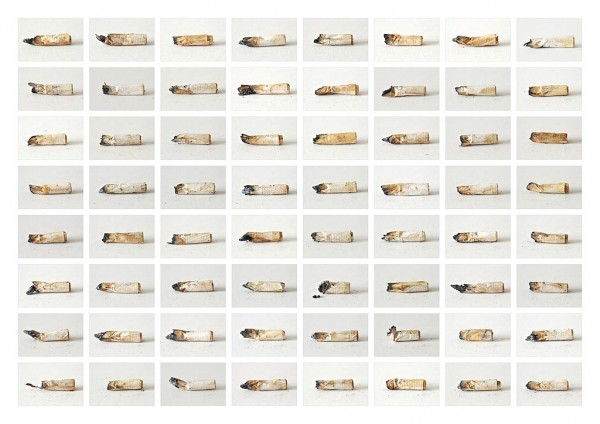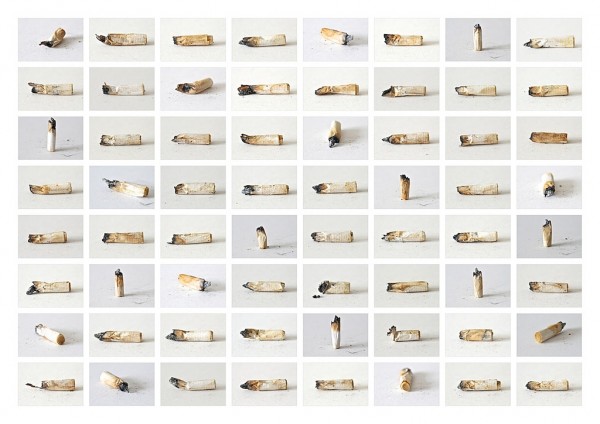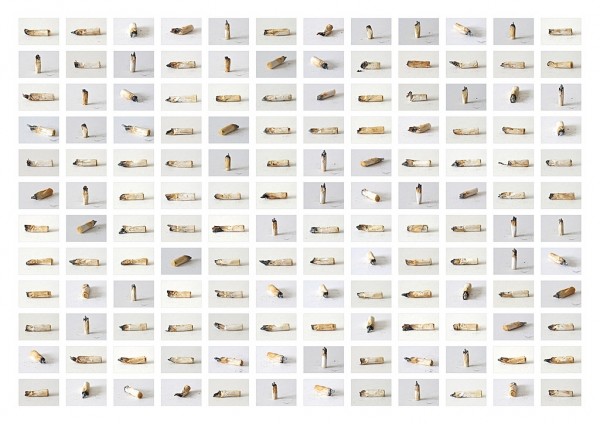 Since my last few posts I have added the "final cut" of my recent images to my website in a new section titled "Musicking". Unlike on this blog no direct association to specific pieces of music is made, which was always my intention. To categorise these images I revisited, as I often do, the writings on Semiology of Roland Barthes (for a discussion see here) and thus, indirectly, came across the term "Musicking", originally coined by the musicologist Christopher Small (see here). Small's theories on music making struck a chord with me and the use of his term seemed entirely appropriate here to express some of the thoughts I have on music and the visual arts (or more properly the function of art in general and the process of "making" art).
The images above are intended for a new subsection which will be called "Handmade – Variations On a Theme". The "Handmade" part of the title is a small nod to one of the inspirations for the images, "Dead Ends Died Out, Examined (1993)" by Damien Hirst. In Hirst's piece all the butts used are from "pre-made" or manufactured (which, ironically, literally means "hand made"!) cigarettes whereas all of mine are hand rolled! There is a broader aspect too, however, which I also wished to explore: in the making of these images I used fully automatic camera settings (hence the variations in tone, white balance etc.) I was also shall we say a little cavalier in not being overly concerned about vibrating the tripod as I manually tripped the shutter; some of the images are, indeed, slightly blurred. Far from being concerned over these "mistakes" I actively embraced them and it is, I think, true to say that such "imperfections" add an air of the "hand made" to the finished grid of images, consistent perfection being something more readily associated with the machine made. The irony here being, that had I in fact taken care of the technical aspect "by hand", manually as it were, the images would have all looked more or less the same (technically that is)! I shall be discussing further aspects of the "hand made" in some future posts with more "image variations" from this series.
The other part of the title is a hint as to the musical associations here: Variations on a theme being a much used musical notion or device. Largely through the influence of my friend, composer and painter Marc Yeats, I have given much thought as to how such concepts of "variations', or the re-use, recycling, of individual themes and elements may be explored in visual art too both through choice of subject matter and treatment.
Accordingly I have chosen, as musical accompaniment, Bach's Goldberg Variations, "Keyboard exercise, consisting of an ARIA with diverse variations for harpsichord with two manuals. Composed for connoisseurs, for the refreshment of their spirits, by Johann Sebastian Bach, composer for the royal court of Poland and the Electoral court of Saxony, Kapellmeister and Director of Choral Music in Leipzig. Nuremberg, Balthasar Schmid, publisher." (sic!). The choice of performer is deliberate too as it relates very much in my mind to Barthesian concepts of musical "grain" (his "grain of the voice") and also to Small's notion of "musicking" (see links in text above). The Canadian pianist Glenn Gould was undoubtedly one of the 20th Century's finest exponents of Bach's keyboard works (and certainly my personal favourite) but both as a man and, in the opinion of many, musically he was not without his "flaws". Eccentricity in personal habits and performance were indeed something of a "trademark" for him (read more here). The single aspect of his performing that drove some to distraction was his habit of "vocalising" as he played. If you listen carefully here you will actually hear him "singing along" as he plays. For some this, and it must be admitted myriad other tics and eccentricities, especially as regards the tempi he would take many pieces at, almost disqualified him from being taken seriously. To me it simply makes him all the more human and for me that is a priceless trait in any great performer…
Johann Sebastian Bach, Goldberg Variations, Glenn Gould