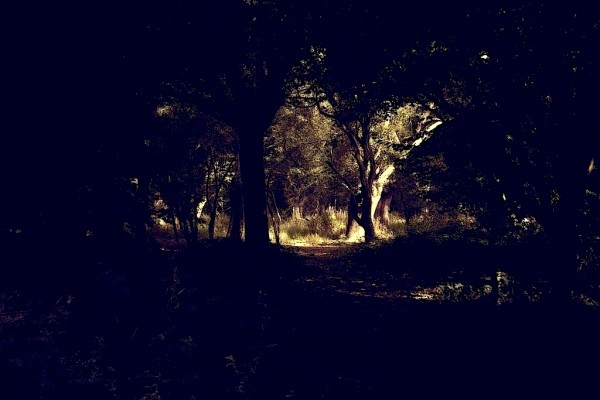 "If way to the better there be, it exacts a full look at the worst."

"There is a condition worse than blindness, and that is, seeing something that isn't there."

Thomas Hardy
The above image is a "prototype" for a proposed new project in collaboration with my wife, Desirée Talbot, an accomplished photographer in her own right. Actually, I have long wanted to do a collaboration with my own wife, and this is it! For this project I intend to take images of hers and for us together to re-edit, or "re-imagine" them to fit a proposed expression or mood that may be very different from the "look", or intent, of the original.
The first image we have constructed here is a good example of what is intended: The original image is a good deal brighter in both form and mood than the reconstructed version. Nevertheless both versions reflect a shared fascination with pathways, something perhaps more noticeable in Desirée's work than mine. And though the exact final form this project is to take is, as yet, not firmly settled, it is intended that it will address shared concerns as well as more personal ones. As I said, it is at a very early stage and much is left to be decided upon. But for now, a little more about this first image…
As essentially an urban person I have always been well aware of the potential darkness and misery peculiar to urban existence. Equally, however, I have always been disturbed by the overly rosy view of rural life inherent in much of the English Pastoral tradition. I refer here to the prevalence, deep in the English psyche, of some imagined "Golden Age" when it was forever summer (and the sun always shone) and happy farm labourers would go about their seemingly leisurely work day with a smile and bathed in a golden light. An idyll, in other words. Equally as fancifully depicted would be the golden light streaked sylvan wonderland of the English woodlands where in one's imagination elves, fairies etc. frolicked in "gay" abandon. Arcadia, indeed. Things are never always as they may appear, however. And to be fair, as my great friend, composer, painter and photographer Marc Yeats, has pointed out in my discussions with him on just this subject, there is a darker side to the so called Pastoral Tradition too, as exemplified in much of the music and most pointedly in the writing of such as Hardy. To be blunt, for most of our history and for the majority of inhabitants, rural life has been one of often brutal misery. Or so is the view that I would most subscribe to. The truth may lie somewhere in between, for all I know; I have never experienced rural life as such anyway. Which brings me to my point: Why do extreme views persist and why have most people throughout history seemed to prefer a rural environment of the imagination to any reality. Mostly with hindsight, that is.
In any case, reality is not our concern here. That's merely documentary. I am not a landscape (or "townscape") photographer or have any wish to be. Which is why it is Desirée's images we shall be using as "raw material" here. Not that she intends to document the countryside or even visit it much. Semi urban environments like our local Epping Forest, Hampstead, even the parks of London if appropriate (and there is no shortage there) will suffice to explore what we intend to; more mood, feeling, attitudes etc. After all the whole point of conjecture here is that nothing is ever as it appears.
So to the image itself… In the editing of the original image (brighter, as I have said) my concern was not so much to depict a natural environment but to use the one in the image as metaphor. On the face of it the viewer is following a path out of the darkened, light starved, woodland towards a well lit glade with more than a little promise of the magical perhaps. Out of the darkness into the light; or "salvation" if you like. So far, so trite it would seem. Even more than a little twee I may venture. But, as with most things, it depends on one's viewpoint. Equally, one could be leaving the sun bathed sylvan glade and entering the dark wood (the unknown, call it what you will) just throwing a backward glance as the light of the glade recedes. Soon it may recede to a point where one wonders if it ever existed or was merely imagined. OK… a bit of a stretch, you may say. But this is about "reading" images; all images. Where some may see certainty, where some (maybe most) may happily take things at face value I have always had a tendency to see ambiguity. Maybe even invent it where none may logically exist. Call it a predisposition but nothing is ever as it appears and, as far as I have always been concerned, and this is the point, at the heart of all art is personal disposition. What we may (may…) see is one thing. How we depict it is another.
With the editing of this image I have deliberately muted the colour tones of the sunlit area down to a sort of greeny brown to approximate the painted woodscapes of, say, Gainsborough. It just seemed appropriate here.
In keeping with this theme I have chosen a piece by the English composer, Frederick Delius (has anybody ever noticed how so many English composers have suspiciously un-English names? LOL), "Walk To The Paradise Garden". And very fitting it is too… The piece is actually taken from the composer's opera, "A Village Romeo and Juliet" and the "Paradise Garden" in the title isn't a "garden" at all. It is in fact a seedy, dilapidated pub/country dance hall. And the couple, the star crossed lovers of the opera title, are not walking towards "paradise" but a tragic end (they will later deliberately and jointly end their lives by drowning). The music however, sounds lush and romantic. Or does it? For me, I hear a dark undertone of sadness, even menace. But then again… I already know the story and how it must end. To what extent is this pre-knowledge colouring what I hear? Of course, now you know the story too! Or, as once again my friend Marc Yeats says, does it really matter? Maybe not, but also once again, nothing is ever as it appears…
Frederick Delius, Walk To The Paradise Garden, London Symphony Orchestra, Sir John Barbirolli