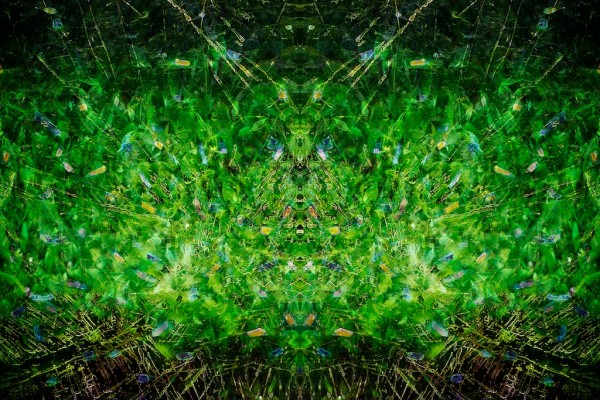 Asking a friend, even one as close as Marc Yeats, if you can "appropriate" a piece of their work and "re-imagine" it and their subsequently agreeing can leave one, suddenly, with a daunting prospect. All too quickly it dawns on one that such agreement implies a level of trust and brings with it certain responsibilities. In any collaboration I have undertaken I have always thought that, if the suggestion has originated from me, my role should be a supporting one in so far as the overriding obligation is to preserve the integrity of the original piece.
The piece I selected to work with was "Movement Towards No. 4″ from Marc's "Stillness In Movement" collection of 1994. With its pre dominantly green base my blending of one of my own foliage images seemed an obvious choice. You can see the result above. I hope that it indeed achieves my aim that the image is still recognisably Marc's piece but not so alike as to be a pointless exercise…
Of course, as well as being a highly accomplished painter (and now photographer too) Marc is also one of the very best and most highly acclaimed contemporary music composers around. Which brings me to my musical selection for today: The first John McLaughlin/Mahavishnu Orchestra piece I ever heard was, appropriately enough, "Meeting Of The Spirits", the first track on their first album "The Inner Mounting Flame". I was literally blown away. I had never heard anything remotely like it before. The raw power and sheer virtuosity represented a visceral thrill I have never got over…
My first exposure to Marc's music, too, was a life changing experience albeit in a different way. In the years since my first "McLaughlin experience" I suppose my musical tastes have broadened considerably and so, in many ways, you could say I was ready for the subtle nuances of Marc's mesmerising music, especially for his, shall we say, more "difficult" pieces. So the same kind of experience but also entirely different. Or maybe not entirely…
Recently, while serendipitously dipping into Marc's oeuvre, I (re)discovered three "mashup" pieces of his: The Colour Songs Mashup series. On listening to these I realised there was a connection to the Mahavishnu Orchestra material that I fell in love with years ago. Most especially, to my ears at least, with "Colour Songs Mashup 3″ which you can hear below. Of course, as a non-musician, one is sometimes loathe to entirely trust the judgement of one's own ears so I broached the subject with Marc himself before posting the piece. Here is what he had to say: "The energy of the mashups – the controlled frenzy does have a connection to the aforementioned music, I think. Very different language but the ebb and flow share a commonality . . but it's the frenzy that I think brings them most closely together – frenzy or ecstatic?? I'll leave that up to you." This was quickly followed by another communication: "Yep – it's the frenzy!! I get it!" So I guess that settles it!
Speaking of "mashups" (not a term I'm entirely comfortable with, but it will do. Or, in my case, "hashups"?) this reuse of elements from previous works to create an entirely different piece, both in spirit and technically, is a concept that Marc uses quite extensively. Especially, of course, in his more experimental pieces. It is a notion I have become somewhat enthralled with myself and has informed much of my own recent work. Interconnections, new associations, even flights of fancy. It's a magical notion indeed…
Meeting Of The Spirits, Mahavishnu Orchestra